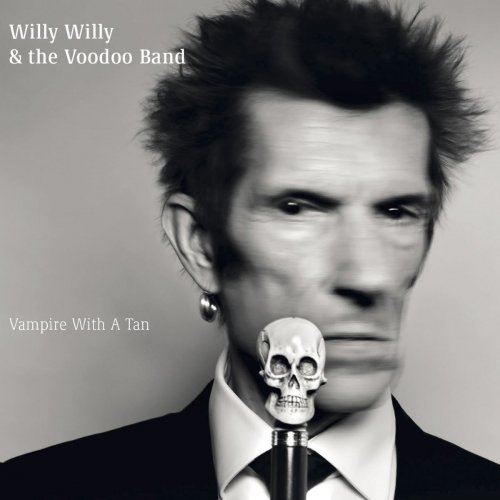 Artist
:
Willy Willy & The Voodoo Band
Title
:
Vampire With a Tan
Year Of Release
:
2018
Label
:
Quest4 Records
Genre
:
Blues Rock
Quality
:
320 / FLAC (tracks)
Total Time
: 40:10
Total Size
: 93 / 283 Mb
WebSite
:
Album Preview
Tracklist:
1. Seven Days (2:26)
2. Vampire With a Tan (3:38)
3. Catch Me (If You Can) (3:35)
4. Can't Stand It (with Isolde Lasoen) (2:49)
5. Hey Babe (3:27)
6. Little Devil (2:41)
7. Vampire Blues (3:45)
8. The Keeper (2:26)
9. Hey Buddy (with Guy Swinnen) (3:20)
10. Wizard of 'O' (2:40)
11. In Every Dream House (6:31)
12. So Long Brother (with the VooDoo Choir) (2:51)
Dertien jaar zitten er tussen de vorige plaat van Willy Willy & The Voodoo Band en deze, maar in rock-'n-roll-land lijkt weinig veranderd.
Niemand die Willy Lambregt nog bij zijn echte naam noemt, behalve dan de bijzitter in het stembureau misschien. Als Willy Willy al gaat stemmen, want de man heeft al sinds eind jaren zeventig lak aan gezag en muziek is sinds zijn tienertijd zijn grote liefde. Alleen zijn vrouw Michèle wist achtentwintig jaar geleden een even grote plaats in zijn hart te vinden.
Willy Willy is dan wel vooral bekend van bij The Scabs en in mindere mate als gitarist van Vaya Con Dios en Arbeid Adelt!, toch is hij meer een loner dan een kuddedier. En hij gaat al zo lang mee dat hij wel het eeuwige leven lijkt te hebben. 'Vampire With A Tan' is dan ook een toepasselijke titel voor de derde plaat met zijn eigen band, want ook vampieren leiden een eenzaam en eeuwig leven. Zelfs kanker houdt hem niet tegen verder te gaan.
Dat er toch sprake is van een Voodooband, bewijst dan weer dat hij bij zijn lange omzwervingen door muziekland een pak vriendschappen opbouwde. Eén van zijn compagnons op de route is bijvoorbeeld Patrick Riguelle die ook nu weer een belangrijke inbreng had. Maar ook Guy Swinnen, Isolde Lasoen en een pak andere vrienden en vriendinnen staan de oude rock-'n-roll-krijger bij op deze fantastisch klinkende plaat.
Je vindt hier geen enkele noot uit een keyboard, enkel gitaren, drums en bas en af en toe een streepje lapsteel en mondharmonica van multitalent Riguelle. Niets vernieuwends dus, maar gewoon rock-'n-roll zoals die bedoeld was om te klinken: een beetje gevaarlijk, maar vooral oldskool fun.
Het hoogtepunt van de plaat zit net over halfweg met The Keeper, maar ook al wat daarvoor en daarna komt, is duidelijk het product van ervaren, steengoede muzikanten. Dat The Keeper er toch bovenuit springt, komt door de snedige gitaren en de geloofwaardige tekst die door Willy Willy gebracht wordt op Bowie-aanse wijze.
Naast tien eigen composities staan er op de plaat ook twee zalige covers die bewijzen dat een rasmuzikant elk nummer naar zijn hand kan zetten. Vampire Blues van Neil Young kreeg een geweldige update. Het orgeltje van in 1974 werd overboord gekieperd en vervangen door de lapsteel van Riguelle. En de Voodooband huilt zachtjes mee met de mondharmonica. Nog straffer is de remake van In Every Dream Home (A Heartache) van Roxy Music, een donker, slepend nummer dat in het licht van Willy's ziekte een wel erg scherp lemmet krijgt en die achtergrondzang van Kiu Jerôme zorgt geheid voor kippenvel.
This album Willy Willy & The Voodoo Band – Vampire With a Tan (2018).rar, uploaded by Music Blog on January 22, 2019. If you want to download Willy Willy & The Voodoo Band – Vampire With a Tan (2018) torrent, just click the download link above and you will be redirected to short url page, after that you must click skip ads and download Willy Willy & The Voodoo Band – Vampire With a Tan (2018).zip.
Tags:
willy willy & the voodoo band – vampire with a tan (2018) zip download
download willy willy & the voodoo band – vampire with a tan (2018) rar
zippyshare willy willy & the voodoo band – vampire with a tan (2018) torrent download
download mp3 willy willy & the voodoo band – vampire with a tan (2018) cbr 320kbps cd rip
download willy willy & the voodoo band – vampire with a tan (2018) m4a itunes
flac willy willy & the voodoo band – vampire with a tan (2018) lossless download