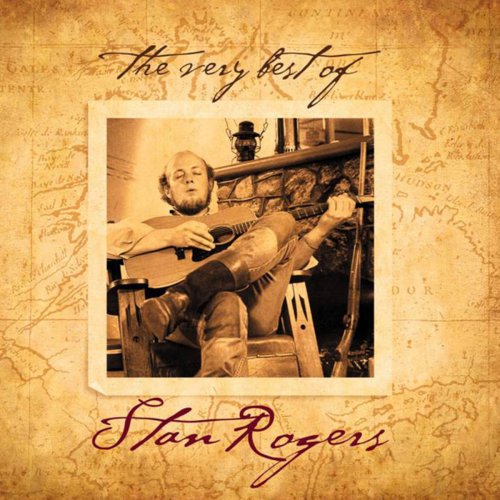 Artist
:
Stan Rogers
Title
:
The Very Best Of Stan Rogers
Year Of Release
:
2018
Label
:
Borealis Records
Genre
:
Folk Rock, Singer-Songwriter
Quality
:
Mp3 320 kbps / FLAC (tracks)
Total Time
: 01:11:12
Total Size
: 167 / 444 MB
WebSite
:
Album Preview
Tracklist:
1. Fogarty's Cove 02:14
2. Free in the Harbour 03:57
3. White Squall 05:02
4. Make and Break Harbour 04:27
5. Barrett's Privateers 04:19
6. The Flowers of Bermuda 03:47
7. Tiny Fish for Japan 03:30
8. The Last Watch 05:08
9. Forty-five Years 03:30
10. Northwest Passage 04:49
11. Lock-keeper 05:29
12. The Idiot 03:49
13. The Jeannie C. 05:55
14. The Field Behind the Plow 04:30
15. Lies 05:42
16. The Mary Ellen Carter 05:25
Legendary Canadian folk singer and composer, the late Stan Rogers, has been described as "one of the touchstones of modern Canadian history." The Very Best Of Stan Rogers includes sixteen of Stan's most-loved songs chosen by Ariel Rogers and Stan's long-time producer, Paul Mills. All of the songs have been re-mastered and the results are truly stunning.
"There are days when the postman delivers a real treat. A postcard from a friend from way-back one felt one had lost touch with; a tax rebate; an all-clear after a medical test. But best of all, an album like this. A disc that is a pure joy to review: and one that poses the reviewer an all-too-rare problem. How to avoid his review becoming an unabashed fan letter.
(Well, let's start and I will try to steer clear of the gushing sentiments I feel in my heart!)
It is now 28 years since Stan was so tragically lost to us in that fire aboard that Air Canada flight. It is hard to believe that he would only be 61 years old now: he died at the very young age of 33. And yet in his short life he wrote three songs that were nothing short of masterpieces, and several others that had the listener reaching for superlatives.
And of course it was not just the writing, but also the performing. My goodness, what a voice he had. For such a young man, his rich baritone had a maturity that – listening to it now 3-4 decades later – you would swear belonged to a singer in mid-forties, at the top of his game. And what a band, too. His kid brother Garnett particularly excelling on fiddle.
So, preamble over: down to business.
It is clear that releasing this CD was surely a "no brainer", when you consider that there is a generation under 30 who know very little about him. And although his widow Ariel had once said that she did not intend to release any more of Stan's work, she finally bowed to requests for a "Best Of", when Stan's great friend and producer, Paul Mills, explained to her the wonderfully sophisticated techniques he would use to remaster the old recordings, using modern digital technology.
And the proof is there in the listening. Wonderfully crisp stuff: I shut my eyes and it is so immediate and vital a sound, that it seems like Stan and his band are in the next room.
Nearly all the really strong songs you'd expect are here. Free in the Harbour; Tiny Fish for Japan; Forty-five Years; Northwest Passage; The Field Behind the Plow; Make and Break Harbour; and Lies. Plus of course the fine song that most critics (myself excluded) seem to regard as his greatest: Lock-keeper.
You will note that earlier in this review I claimed "he wrote three songs that were nothing short of masterpieces". Well, White Squall (with its extraordinary use of crescendo) and The Mary Ellen Carter (with its inspirational message) are indeed here in all their glory.
But the third masterpiece is not, and for the life of me, I cannot fathom why.
Surely, to include Fogarty's Cove and another similarly worthy – but no more than that – song like The Flowers of Bermuda, and exclude that truly great song First Christmas, is an act that borders on the perverse.
But hey, tell me when I last reviewed an album with so many good songs on it! My memory honestly does not go back that far. So I should be thankful that Ariel and Paul have provided this feast, and forgive them momentarily taking their eye off the ball." (Dai Woosnam)
Digitally remastered
This album Stan Rogers – The Very Best Of Stan Rogers (2009/2018).rar, uploaded by Music Blog on December 6, 2018. If you want to download Stan Rogers – The Very Best Of Stan Rogers (2009/2018) torrent, just click the download link above and you will be redirected to short url page, after that you must click skip ads and download Stan Rogers – The Very Best Of Stan Rogers (2009/2018).zip.
Tags:
stan rogers – the very best of stan rogers (2009/2018) zip download
download stan rogers – the very best of stan rogers (2009/2018) rar
zippyshare stan rogers – the very best of stan rogers (2009/2018) torrent download
download mp3 stan rogers – the very best of stan rogers (2009/2018) cbr 320kbps cd rip
download stan rogers – the very best of stan rogers (2009/2018) m4a itunes
flac stan rogers – the very best of stan rogers (2009/2018) lossless download