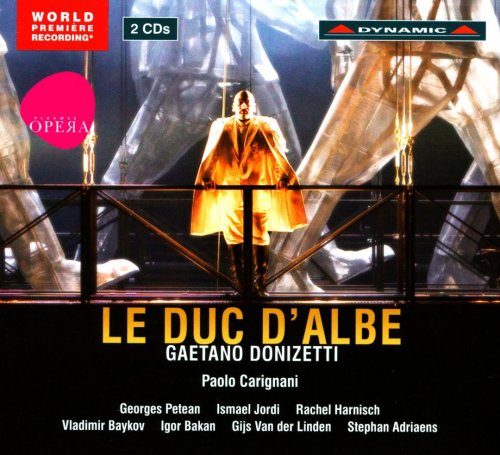 Artist
:
Paolo Carignani
Title
:
Gaetano Donizetti: Le Duc d'Albe
Year Of Release
:
2013
Label
:
Dynamic
Genre
:
Classical
Quality
:
FLAC (image + .cue, log, artwork)
Total Time
: 2:21:48
Total Size
: 616 MB
WebSite
:
Album Preview
Tracklist:
Fresh from attending Covent Garden's first production of Les Vepres siciliennes (due out on DVD) comes the première recording in the original French of the Proto- Vepres. Like Verdi's baggy monster, Donizetti was commissioned in 1839 by the Opéra de Paris to write a five-act French language grand opera (I'm assuming with ballet) to Eugene Scribe's and Charles Duveyrier's libretto. Set in Spanish-occupied Flanders, Le duc d'Albe is a bloody tale of divided loyalties, with the freedom fighter, Henri, torn between the woman he loves, Hélène, and their Spanish oppressor, the Duke of the title. Like Verdi's epic, there is a Luke Skywalker-esque-I-am-your-father moment between villain and hero, and to add melodrama, Hélène's real motivation is to avenge the death of her father at the hands of the duke. It is then a classic bel canto dramatic triangle, which fittingly ends with the ultimate sacrifice of the hero.
But the work was left half finished, ostensibly when the lead soprano, Rosine Stolz, took issue with role of Hélène, although the Paris Opéra management was clearly losing interest. Despite Donizetti's attempts to return to the score, by the time of his death, the first two acts were complete, along with most of the vocal writing of the final two acts, so it is not surprising that Donizetti would recycle some of this aborted project in works like La Favorita . One could say, though, that the work's first birth came in 1855 when the two librettists took Henri and Hélène and rehoused them in French-occupied Sicily for Verdi's grand epic. But an Italian-language completion of Donizetti's original, by former pupil Matteo Salvi, was made in 1882, which then lay dormant until as late as the 1950s. Most encounters with this unusual opera will have been with the pioneering Thomas Schippers live recording from Spoleto. If that edition attempts to impersonate Donizetti, grafting on the completions seamlessly, then this new reconstruction from 2012 by Giorgio Battistelli (suitably, given its setting, taken up by the Flemish Vlaamse Opera) doesn't try to hide its plastic surgery scars. Like the Louvre Pyramid, this reworking brings out the clear fault lines about where Donizetti's actual writing begins and ends. Battistelli's style is neo-tonal, with a real whiff of Menotti about him, so rather than there being any dissonant, atonal shock, the listener will catch themselves for a few seconds admiring how revolutionary Donizetti is, before the penny drops. It really is a very clever modern filling in of what is already 60–70 percent Donizetti.
And what Donizetti it is. Written at his peak, the sophistication of his melodic and harmonic development here is never in doubt: indeed, it feels far more advanced than, say Lucia di Lammermoor , with properly expanded ensemble scenes and less stop-start feel to the recitatives. The love duet is magnificent, and the title role is arguably one of Donizetti's most involved and demanding baritone roles. There is an odd jolt with the start of the third act when Battistelli's real composing begins, but when left with the original vocal line, he remains true to Donizetti's accompaniment style. The ending is a very minimalist, jagged way to conclude a bel canto opera, but it works.
The cast members are generally very fine, especially Georges Petean's Duke, virile and firm in tone. Henri is beautifully sung by Ismael Jordi, and is an elegant foil to Rachel Harnisch's feisty, darkly sung Hélène. Diction is pretty good throughout, and all seem as unfazed as I was by the intermeshed musical styles of the final acts. Superbly paced by Paolo Carignani, this work has real punch and unity with tidy, spirited work from the orchestra and chorus. This is certainly one of the more polished releases from the often rough and ready Dynamic label, with sound that feels properly mixed and balanced. Stage noise is minimal too, aside from the odd crowd scene. The notes are brief and to the point, even if they do contradict an exhaustive but very readable account of the work's tortured genesis by Roger Parker on donizettisociety.com. Unusually for Dynamic, there appears to be no simultaneous DVD release and there is no accompanying libretto with translation, but the latter is provided online—an adequate compromise, I suppose. Overall this really is one of Dynamic's best efforts, as well as being (mainly) first-rate Donizetti. — FANFARE: Barnaby Rayfield
This album Paolo Carignani – Gaetano Donizetti: Le Duc d'Albe (2013).rar, uploaded by Music Blog on December 6, 2018. If you want to download Paolo Carignani – Gaetano Donizetti: Le Duc d'Albe (2013) torrent, just click the download link above and you will be redirected to short url page, after that you must click skip ads and download Paolo Carignani – Gaetano Donizetti: Le Duc d'Albe (2013).zip.
Tags:
paolo carignani – gaetano donizetti: le duc d'albe (2013) zip download
download paolo carignani – gaetano donizetti: le duc d'albe (2013) rar
zippyshare paolo carignani – gaetano donizetti: le duc d'albe (2013) torrent download
download mp3 paolo carignani – gaetano donizetti: le duc d'albe (2013) cbr 320kbps cd rip
download paolo carignani – gaetano donizetti: le duc d'albe (2013) m4a itunes
flac paolo carignani – gaetano donizetti: le duc d'albe (2013) lossless download