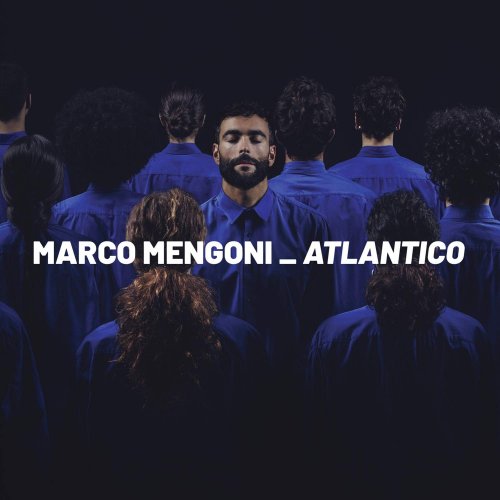 Artist
:
Marco Mengoni
Title
:
Atlantico
Year Of Release
:
2018
Label
:
Rca Records Label
Genre
:
Pop
Quality
:
Mp3 320 kbps / FLAC (tracks)
Total Time
: 50:26
Total Size
: 115 / 339 MB
WebSite
:
Album Preview
Tracklist:
1. Marco Mengoni – Voglio
2. Marco Mengoni;Tom Walker – Hola (I Say)
3. Marco Mengoni – Buona Vita
4. Marco Mengoni – Muhammad Ali
5. Marco Mengoni – Le casa azul
6. Marco Mengoni – Mille lire
7. Marco Mengoni – Intro della ragione
8. Marco Mengoni – La ragione del mondo
9. Marco Mengoni;Vanessa da Mata;Selton – Amalia
10. Marco Mengoni – Rivoluzione
11. Marco Mengoni – Everest
12. Marco Mengoni – I giorni di domani
13. Marco Mengoni – Atlantico
14. Marco Mengoni – Hola
15. Marco Mengoni – Dialogo tra due pazzi
Anticipato dai due singoli VOGLIO e BUONA VITA, si intitola ATLANTICO il nuovo disco di Marco Mengoni, 15 tracce disponibili dal 30 novembre 2018.
Oltre alla versione standard questo nuovo lavoro avrà 5 copertine per 5 special edition da collezione. Ognuna avrà un titolo, una copertina e un booklet completamente diversi dalle altre e una bonus track esclusiva. Questi i titoli delle deluxe version:
01/05 Atlantico – Attraverso la gente
02/05 Atlantico – Filtro di coscienza
03/05 Atlantico – Immersione emotiva
04/05 Atlantico – Oceano di esperienza
05/05 Atlantico – Piano unico
All'interno della tracklist si trovano alcune collaborazioni inedite.
Tra queste, il brano Hola, disponibile anche nella solo version di Mengoni, unisce la voce di Marco a quella di Tom Walker, il breakout artist inglese che ha avuto più successo nel mondo in questo 2018,la sua "Leave A Light On" ha mantenuto la vetta dell'airplay radiofonico per mesi.
Per "Amalia" invece, con Vanessa Da Mata insieme ai Selton la contaminazione si fa ancora più profonda. Vincitrice di un Latin Grammy Award, Vanessa Da Mata è una delle cantautrici brasiliane più apprezzate a livello mondiale mentre gli italobrasiliani Selton sono una delle realtà più interessanti del mondo indie contemporaneo.
Quella di ATLANTICO sarà una release unica nel suo genere. A due anni di distanza dal suo ultimo disco di inediti, Marco Mengoni ha ideato ATLANTICO FEST – Attraversa la musica, tre giorni di eventi a Milano a partire da giovedì 29 novembre. Per la prima volta un progetto musicale si traduce in occasioni di incontro, osservazione e condivisione, un nuovo modo di ascoltare attraverso diverse experience rivolte a tutto il pubblico. ATLANTICO FEST nasce in collaborazione con Punk For Business, agenzia di eventi parte di Worldwide Shows Corporation, che ne cura anche la produzione esecutiva.
This album Marco Mengoni – Atlantico (2018).rar, uploaded by Music Blog on November 30, 2018. If you want to download Marco Mengoni – Atlantico (2018) torrent, just click the download link above and you will be redirected to short url page, after that you must click skip ads and download Marco Mengoni – Atlantico (2018).zip.
Tags:
marco mengoni – atlantico (2018) zip download
download marco mengoni – atlantico (2018) rar
zippyshare marco mengoni – atlantico (2018) torrent download
download mp3 marco mengoni – atlantico (2018) cbr 320kbps cd rip
download marco mengoni – atlantico (2018) m4a itunes
flac marco mengoni – atlantico (2018) lossless download