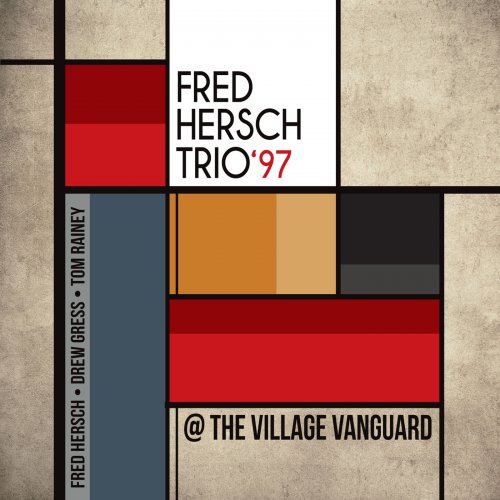 Artist
:
Fred Hersch Trio
Title
:
97 @ The Village Vanguard (Live)
Year Of Release
:
2018
Label
:
Palmetto Records
Genre
:
Jazz
Quality
:
Mp3 320 kbps / FLAC (tracks)
Total Time
: 58:16
Total Size
: 135 / 358 MB
WebSite
:
Album Preview
Tracklist:
1 Easy to Love (Live) 09:49
2 My Funny Valentine (Live) 10:06
3 Three Little Words (Live) 06:00
4 Evanessence (Live) 05:46
5 Andrew John (Live) 07:36
6 I Wish I Knew (Live) 05:47
7 Swamp Thang (Live) 05:44
8 You Don't Know What Love Is (Live)
FRED HERSCH TRIO '97 @ THE VILLAGE VANGUARD / PORTER: Easy to Love. RODGERS-HART: My Funny Valentine. KALMAR-RUBY: Three Little Words. HERSCH: Evanessence. Swamp Thang. GRESS: Andrew John. GORDON-WARREN: I Wish I Knew. RAYE-DePAUL: You Don't Know What Love Is / Fred Hersch Trio: Hersch, pno; Drew Gress, bs; Tom Rainey, dm / Palmetto Records (no number) (live: New York, July 18, 1997)
Due for release on December 7, this CD is a souvenir of pianist Fred Hersch's first appearance at the Village Vanguard in July of 1997. Hersch mentions in the liner notes that he wasn't happy with the house piano, so he rented a Steinway baby grand and somehow managed to get it down the stairs to the club.
Despite this, both Hersch and his rhythm section were in a happy mood that night. His treatment of Cole Porter's Easy to Love is imaginative and inventive, rewriting the rhythm of the tune and even interjecting some bars in 3/4 to add further interest. He reels off some sparkling piano playing, with particularly good support from drummer Tom Rainey whose playing reminded me here of Roy Haynes (a good thing). Hersch just barely outlines the original melody in the opening chorus—it almost sounds like a paraphrase—and at the three-minute mark increases the tempo to a fast jump pace, with bassist Drew Gress pushing the pulse. This is a truly remarkable performance, which even includes some slight rubato to allow Hersch to play quarter-note triplets here and there to further deconstruct the original rhythm. Gress also takes a fine solo, his somewhat gentle bass picking its way through some fairly convoluted harmonic excursions, while Rainey further breaks up the rhythm behind him.
Like most jazz musicians, Hersch plays My Funny Valentine as a ballad, but once again re-composes the piece via his imaginative treatment of both theme and, later, harmony. Once into the tune proper, he plays it with a sort of a slow calypso beat. Gress is also front and center on this one, his bass miked a bit closer and more clearly. Hersch's own solo fragments the tune into little contrasting shards, the calypso sound stronger than before. Three Little Words is given a fast swing treatment, with Hersch sounding a bit like Nat Cole in his more relaxed and spacier solos. Evanessence, a Hersch specialty dedicated to Bill Evans, is a medium-tempo piece in which the trio does their tribute to the classic Evans trio with Scott LaFaro and Paul Motian that played the Village Vanguard in the very early 1960s. Later on, the tempo doubles and the trio really jumps. Gress' original piece, Andrew John, begins very quietly and slowly, with Hersch alone at the keyboard through the first chorus, except for some very sparse snare drum interjections from Rainey. Hersch remains front and center in this one.
The old Mack Gordon-Harry Warren tune, I Wish I Knew, is updated in Hersch's own style. This one gets a sort of a jogging beat, which livens up the somewhat staid tune. I also really liked Hersch's original tune, Swamp Thang, with its slithery melodic line and slow, sinuous beat that later moves into a sort of strip-club tempo. Hersch rewrites Don Raye's You Don't Know What Love Is in the same manner as Easy to Love, with multiple harmonic and tempo shifts before launching into a blistering uptempo pace.
This is an excellent set, showing Hersch at his very best.
—© 2018 Lynn René Bayley
This album Fred Hersch Trio – 97 @ The Village Vanguard (Live) (2018).rar, uploaded by Music Blog on December 6, 2018. If you want to download Fred Hersch Trio – 97 @ The Village Vanguard (Live) (2018) torrent, just click the download link above and you will be redirected to short url page, after that you must click skip ads and download Fred Hersch Trio – 97 @ The Village Vanguard (Live) (2018).zip.
Tags:
fred hersch trio – 97 @ the village vanguard (live) (2018) zip download
download fred hersch trio – 97 @ the village vanguard (live) (2018) rar
zippyshare fred hersch trio – 97 @ the village vanguard (live) (2018) torrent download
download mp3 fred hersch trio – 97 @ the village vanguard (live) (2018) cbr 320kbps cd rip
download fred hersch trio – 97 @ the village vanguard (live) (2018) m4a itunes
flac fred hersch trio – 97 @ the village vanguard (live) (2018) lossless download